The Crewe family in Austria are expecting a quieter Christmas this year
It's no surprise that this Christmas will be different. With coronavirus restrictions affecting everyone, plans have had to change and the usual traditions postponed or altered.
But there can be comfort in knowing others are going through something similar.
That's why the BBC has spoken to five families in five different countries about how their festive celebrations have changed, and how they're finding ways to enjoy the holiday season despite everything that's happening.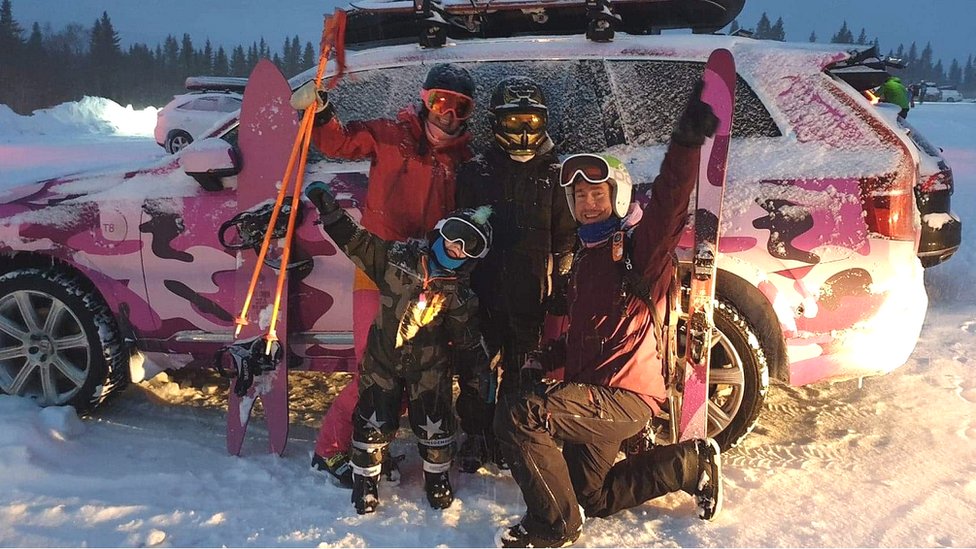 Michaela and Emil Boson, and sons Lucas, six, and Casper, 13..in Are, northern Sweden.
Despite average daily temperatures of -2C (28.4F), the Boson family are "probably going to be outside all the time that it's light" over Christmas".
They said:"They'll keep warm by skiing and sledging, eating porridge, cooking a barbecued lunch and drinking Glogg, Sweden's festive, boozy hot wine which is often spiced-up with spirits, fruit and nuts".
"This will be their first Christmas living in Are", a mountain town around 400 miles (643km) north of Stockholm.
The family moved over to live there in July after Michaela lost most of her work in the hospitality industry which was hit hard by the pandemic.
"We'd been talking about moving for a few years, but now it was just like 'OK, we need to do it'," she said.
One of her brothers and his two children will join them for their snow-based activities, but they will stay in a nearby hotel in order to reduce the risk of infection. Other relatives will join them throughout the day via video call.
"It's a bit boring to not be with the whole family," said Michaela, who used to host up to 20 people for Christmas lunch. But she added that she wouldn't want to be back in the city. "Sometimes it feels like I'm a bit too happy. It's a cheaper lifestyle [and] we just love being outside."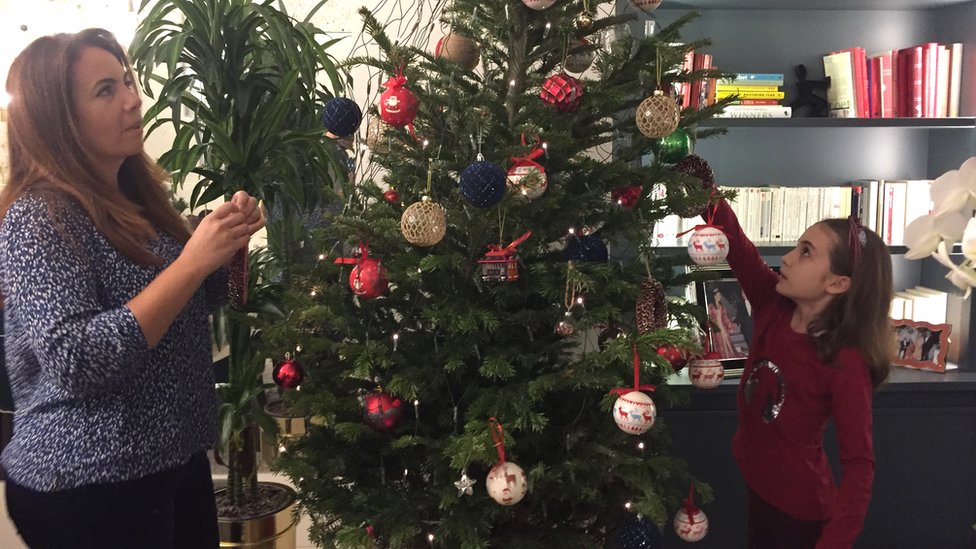 Kenza Mekouar and Juan Olaizola, and children, Ivan, 12, and Sofia, eight.
For Kenza and Juan, who have friends and family scattered around the world, 2020 has been a particularly strange year.
Kenza is originally from Rabat, Morocco but lives in Juan's hometown of Madrid with their two children.
Their multicultural background means that English, French and Spanish are all spoken at home.
They usually divide much of the Christmas period between Madrid and Marbella. But a three-month lockdown in the spring, home-schooling their children and a swathe of cancelled plans have made this year different.
"I wanted to make things a bit more fun this year," Kenza said. "We're trying to make things a little more festive, happier."
She decorated the Christmas tree earlier than usual and has been sending out Christmas cards by post for the first time in years. "A marathon session of the drawing game (board games) is also on the cards for Christmas Eve."
But with curtailment on movement between many Spanish regions, the usual trip to Marbella, with the customary hiking in the nearby mountains, is looking unlikely.
One aspect of Christmas that is not going to change is the food:
"Having developed a British turkey recipe while living in London, the family give their Christmas Eve dinner a Spanish twist by adding seafood. A French-Moroccan flourish is then added in the form of a Bûche de Noël (chocolate log) for dessert."
But that's about as far as it goes in terms of preparations, both for Christmas and New Year.
"It's the first time I've had no idea what we're going to do," Kenza said.
"That's a very Spanish thing," added Juan. "We're not going to plan anything!"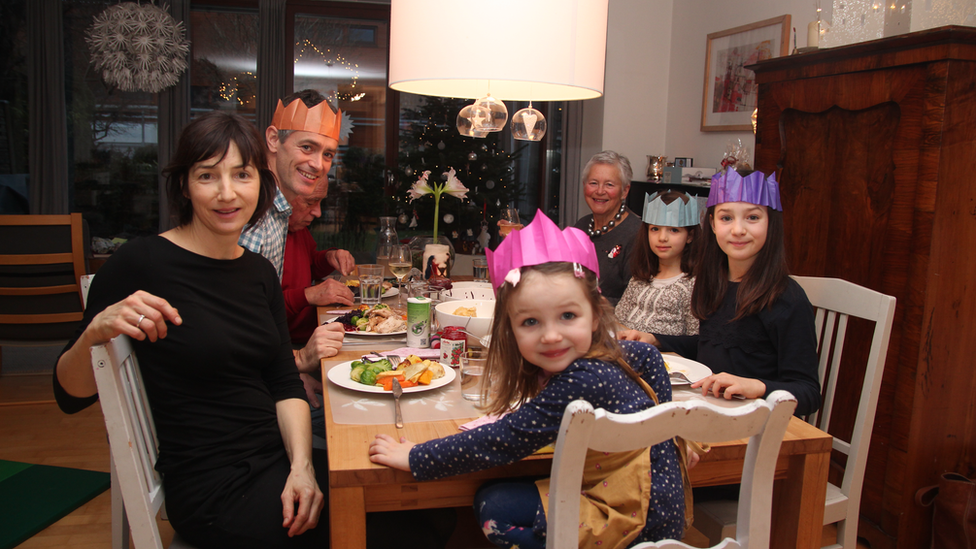 Eva and Graham Crewe and their children, Amelie,11, Elena, 9, and Matilda, 5
Eva is Austrian and Graham is from the UK. Usually Graham's parents would come and visit them, but this year that isn't possible.
Instead, the family are hoping to see Eva's parents: "We can only see them and not the big family. So it will be very small and reduced," she said.
"We also can't see my grandmother who is 97, so that will be very different."
The family keeps both Austrian and British Christmas traditions, celebrating with presents on the evening of 24 December, and with Christmas stockings on the morning of the 25th.
"Normally we'd have a big English lunch with turkey and so on," Graham said. "But this year we're going to save a lot of money because we'll have a chicken instead – and there's just us."
"Everything's cancelled, really," he said. "It'll just be quieter."
But the family have adapted to ensure some traditions can be kept up. Amelie plays the piano and Elena plays the violin, and they would usually perform in Christmas concerts at this time of year.
"I think they're going to record a video [of them playing] and send it to our parents," Eva explained.
"There will be a lot more Zoom and Face Time. It's better than nothing, but of course we miss the personal contact," Graham said.
"It's actually an opportunity because we wouldn't see them all anyway. So there are some opportunities as well, some bright spots."
"We're already making plans for next summer," he added.
"The thing I'm looking forward to next year is much more physical contact with all our friends and family around the world."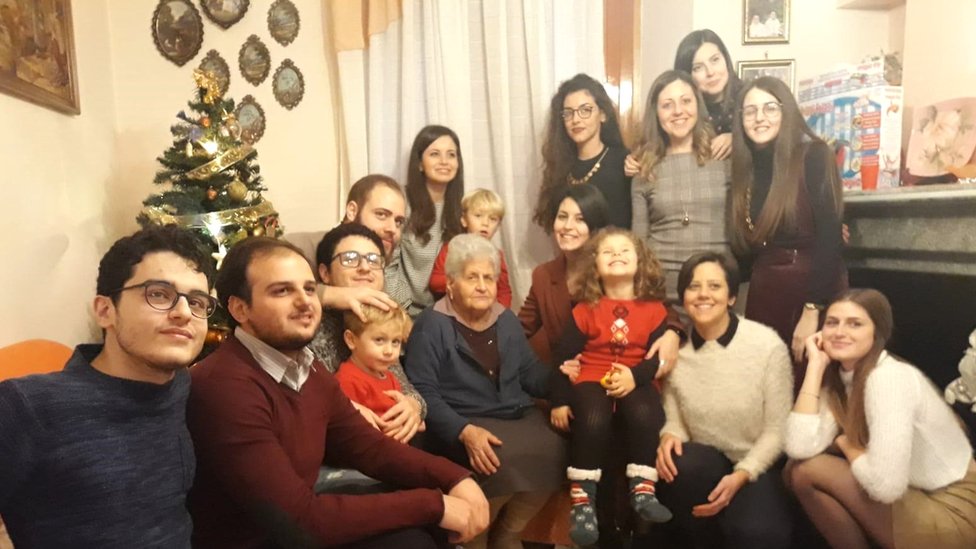 Nadia and Simone, and their two sons, Samuele, 7, and Sebastian, 5
"It's not going to be like any previous Christmas," said Nadia.
"My family is very big. Mamma is the head of the family, and it really means everything to her that we're all there for lunch [back home in Calabria] on Christmas Day."
"It's the first time in my life we won't all be home."
Usually, the whole family would gather for a prayer on Christmas Day: "This year we'll do it all on Whatsapp; we'll have a video call and pray together," she said.
"We'll make a toast together and we'll chat a bit."
After a difficult year, Nadia also decided to buy a puppy for her family because they had wanted one for a long time.:
"The kids are overjoyed," she said. "If all goes to plan, we'll have him just before Christmas. We'll feel a bit less lonely!"
"It'll be the four of us at the table with the dog on Christmas Day," she added. "Even if there are just the four of us, I'll make a special table. I'll cook lunch and try to respect traditions and make more or less the same things we eat down south."
"That means antipasto, pasta dishes, various types of meat, vegetables, then dessert and fruit. "Then at five o'clock you get hungry and start again," Nadia said.
"We eat constantly!"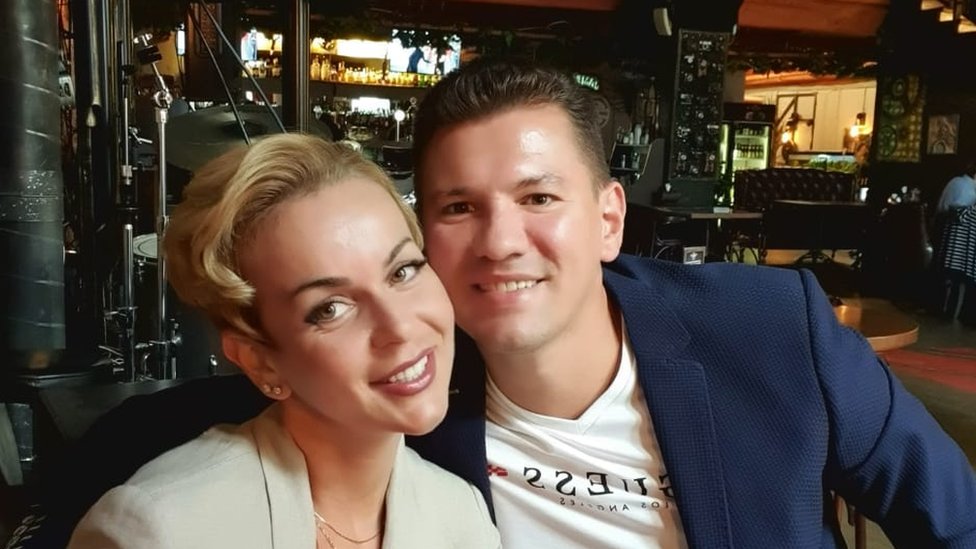 Natalia Khartukova and Vladimir Kriveelsky
Natalia is a health worker in the Russian capital, Moscow, who has been working on the frontline during the coronavirus pandemic.
"It was really difficult," she said.
"This year will be really different," she explained. "Last year, I went to a restaurant with my whole family and we were there all night and ended up dancing and having fun. Two years ago, I went to China with my husband. So it will be different."
"We'll invite maybe two people over on 31 December [when Russia's big New Year celebrations take place] and that's all," she said. "Our parents won't come over because they're afraid of the virus. I'm a medical worker, so I'm more high-risk."
Natalia will video-call her parents for Orthodox Christmas a week later instead.
"We're not going to gather all together in our apartment. No way," she said.
But she believes Russians are more in need of a celebration now than ever – even if it is on a much smaller scale.
"People want to feel happy, more than they did last year, because it's been so hard and so tough".
"It's more important than ever," she said.